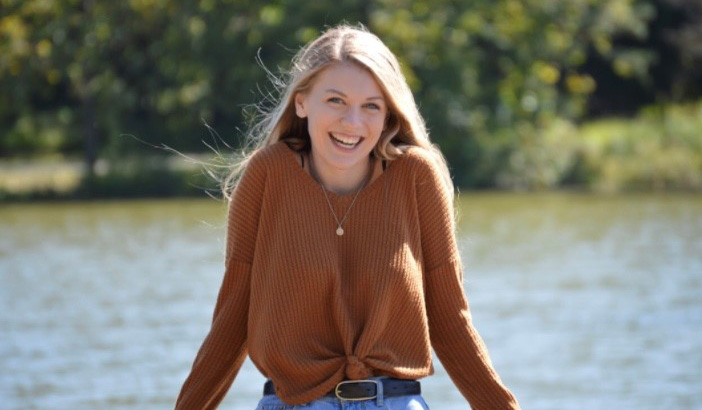 Meet Erika Maher, a bright, hard-working STEM student at the University of Maryland, College Park. She hopes to one day apply her problem-solving skills to create environmentally friendly methods of air transportation. Erika credits the generous financial aid she received from Central Scholarship for allowing her to fulfill her dream of studying aerospace engineering at one of the top programs in the country. Erika explains, "Central Scholarship has made a world of difference for me, both in terms of financing my education and as a support system."
Erika grew up in Baltimore and earned a full-tuition scholarship to Catholic High School. Her education during these years prepared her for college and introduced her to the opportunities college financial aid could provide. The product of a single-income, single-parent household, Erika was determined to find a way to pay for college on her own. She explains that her mother is her role model, and works hard as a nurse to support Erika and her brother. To achieve her goal of self-financing her college education, and to show appreciation for her mother's hard work and support, she held three jobs to pay her tuition.
The COVID-19 pandemic derailed Erika's plans by eliminating all but one of her jobs. Erika was uncertain how she would pay for school and worried that she would not be able to achieve her goal of independently paying for her education. While researching scholarship opportunities online, Erika learned about Central Scholarship and was thrilled to find that the organization matched her needs and academic goals. Furthermore, she appreciated the way in which Central Scholarships' support system guided her through the process of applying for financial aid. She describes her experience saying, "The people at Central Scholarship are genuinely kind people, who truly care about their work and have added a very personal touch to academic scholarships. Their generous donation to my education has been a very appreciated blessing."
Thanks to Central Scholarship, Erika is thriving at the University of Maryland. When not busy with her studies, she serves as Secretary on the Executive Board of the Society of Women Engineers, a programming board member of FLEXUS, the Living, Learning Community for Women in Engineering at UMD, and a sub-group lead for the Peru team of Engineers Without Borders. Erika is also active in Alpha Omega Epsilon, a professional sorority for women in STEM, and Women in Aeronautics and Astronautics. These activities help her develop her professional skills, bond with other STEM women and minorities, and empower her to lead in the classroom.
We are excited to see what the future holds for this young engineering student and are thrilled that Central Scholarship is able to help her achieve her goals! Learn how you can make a difference and help other students remove financial barriers and build bright futures with higher education.