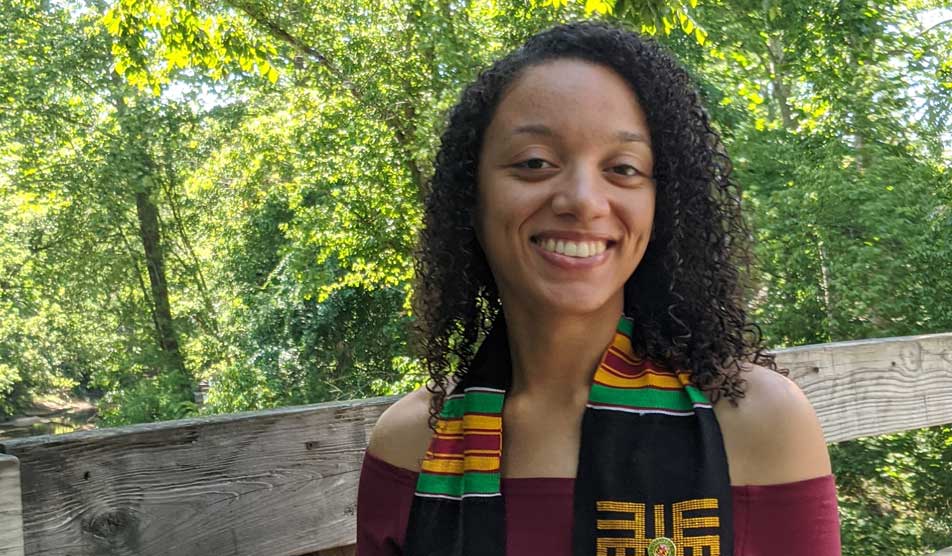 Kyarah Mair is a Central Scholar and senior at the University of Maryland, College Park, where she is studying Public Policy & Racial Economic Inequality, a major she created. "In my junior year, I discovered that I could combine [all my interests] Economics, African American Studies, Sociology, and Public Policy into one area of study," Mair explains.
Kyarah discovered Central Scholarship when she was figuring out how she was going to fund her education, as she was applying to colleges. "My mom's colleague suggested we look into Central Scholarship." It worked out! "Without [Central Scholarship's] generous support, I would owe thousands in student loan debt."
With more financial freedom, Kyarah has been able to hone in on what her future has in store. She landed an internship in her sophomore year with Prosperity Now, an organization working to ensure that everyone in the U.S. has a clear path to financial stability, which influenced her decision to create her major. She worked on the Racial Wealth Divide Initiative at the nonprofit. She supported their work with the Northwest Area Foundation on the African American Financial Capability Initiative: a $4.35 million investment aimed to develop and implement innovative solutions to racial, economic inequality in the U.S.
"This experience inspired me to dedicate my career to creating solutions that address racial, economic inequality, and other social and economic issues more broadly," says Mair. "I was also inspired to find other think tanks and nonprofits doing this work. These experiences have kickstarted my career in being a racial justice advocate and scholar."
Mair will graduate in August of this year. After graduation, she plans to take time off from school to gain work experience before pursuing a Ph.D. in Social Policy/Public Policy Analysis, Economics, or Sociology. "After I complete my Ph.D., I want to continue collaborating with think tanks, nonprofits, and government agencies centered around people of color and creating solutions that address racial inequities." Eventually, she plans to create a public sector consulting firm that will help local, state, and federal governments address the racial equity issues their constituents are experiencing and use the profits to give back to the community.
We are so excited to see what the future has in store for you, Kyarah. Thanks for the inspirational work you are doing!