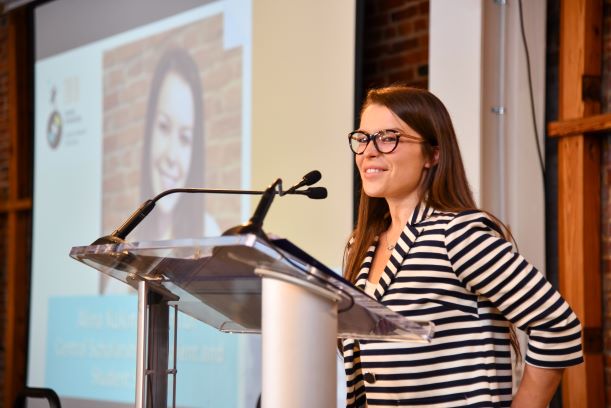 Central Scholarship met Alina back in 2010 as she was aspiring to become a pharmacist. As of May 2018, we are proud to share she has graduated with a Doctorate in Pharmacy from the University of Maryland, School of Pharmacy and is well on her way to achieving her goals. When you meet Alina it is hard not to notice her drive. She was born in Ukraine and moved to Maryland at the age of five. While her parents struggled financially at times, they always instilled the value of education in Alina.
With her laser-sharp academic determination she has taken advantage of every opportunity that has come her way and has excelled in the classroom. While in school she sought leadership opportunities, pursued competitive internships, and remembered to have fun too! Today, she is completing her first year of pharmacy residency at the University of Virginia Health System.
Alina's academic journey intersected with several Central Scholarship donors, who at different points supported her through eight years of education. In addition to interest-free loans, she received funding from the Lessans Family Scholarship and the Mary M. and Benjamin M. Rubin Scholarship for Women. She will be the first to tell you that her scholarship providers made pursuing her dreams a reality, but we also know Alina's intelligence, determination, and resiliency were a big part.