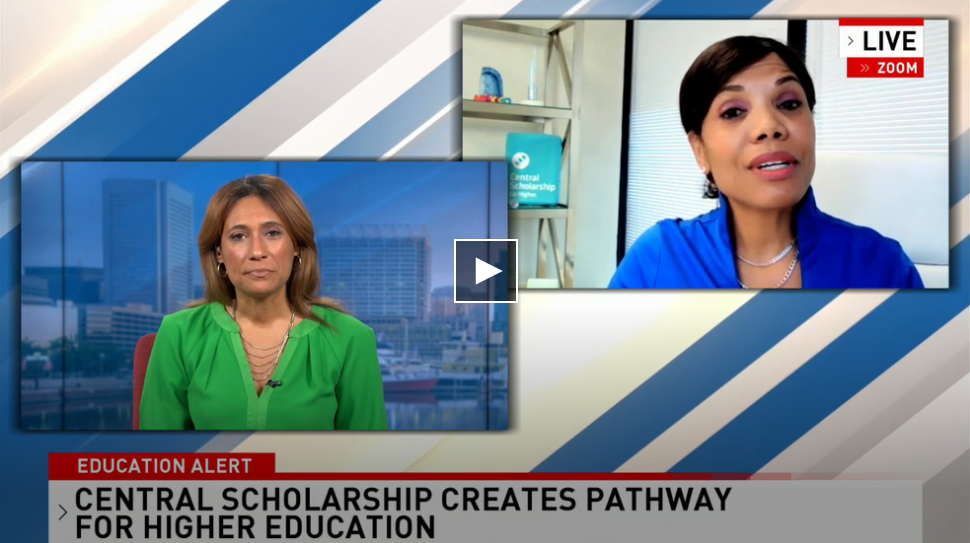 Tierra A. Dorsey, Central Scholarship President, was featured on WEAA 88.9 FM and Fox News 45 to discuss using scholarships to avoid student loan debt and the benefits of aligning scholarship application accessibility with the college application season, respectively.
The student loan debt crisis is now tipping the scales at $1.7 trillion and Maryland families are carrying $35.5 billion dollars of that debt, according to the Education Data Initiative. Dorsey discussed how student loans can be avoided with careful and early planning.
"We try to educate the entire family around the process of attending college (with an emphasis on finances). It's a conversation that should be had early and often. Most families don't start talking about finding scholarships until their student is in the 11th or 12th grade and that's a little too late. When a child enters middle school those serious conversations should be held. It's during this time that parents and families should be exploring all opportunities of financial aid to attend college," explained Dorsey on WEAA 88.9 FM.
Maryland borrowers have the second highest per borrower federal student loan debt of all states at $43,219. Here are the Maryland student loan stats according to the Education Data Initiative:
$35.5 billion in student loan debt belongs to state residents.
$43,219 is the average student loan debt.
821,400 student borrowers live in Maryland.
51.4% of them are under the age of 35.
13.3% of state residents have student loan debt.
Among the state's indebted student borrowers, 12.5% owe less than $5,000.
20.8% owe $20,000 to $40,000.
3.2% owe more than $200,000.
Dorsey shared that interest-bearing student loans should be considered a last resort resource to be explored after "free money" resources like scholarships, grants, and 0% interest student loans.
"Most people don't realize what's right in their backyards. There are hundreds, let me rephrase, thousands of scholarship opportunities out there. Our government, (Maryland) state's government, the (Maryland) General Assembly, and your state delegates; they have scholarships available for the taking," says Dorsey.
To support Central Scholarship's initiative to provide financial access, resources, and opportunity for students throughout the state of Maryland to attend college, the 2022-2023 Central Scholarship application opened on October 15th this year.
The new opening date coincides with the national college application process and early FAFSA completion initiatives. The decision was made to change the scholarship's opening date to October 15th (formerly opening on January 1st) after feedback from school counselors and students.
"We've learned that students become burned out by the time applications for scholarships open up which is usually at the beginning of the year. We are meeting them where they are. The college application process is happening now. So, we decided to open our application earlier so students can apply for our scholarships while they are already in application and FAFSA mode. In most cases, students can re-use or recycle their college application essays for the Central Scholarship application," said Dorsey in a Fox 45 News interview.
To hear and view the full interviews, use the following links:
WEAA 88.9 – Tackling the Student Debt Crisis
Fox 45 News – Central Scholarship Applications Open