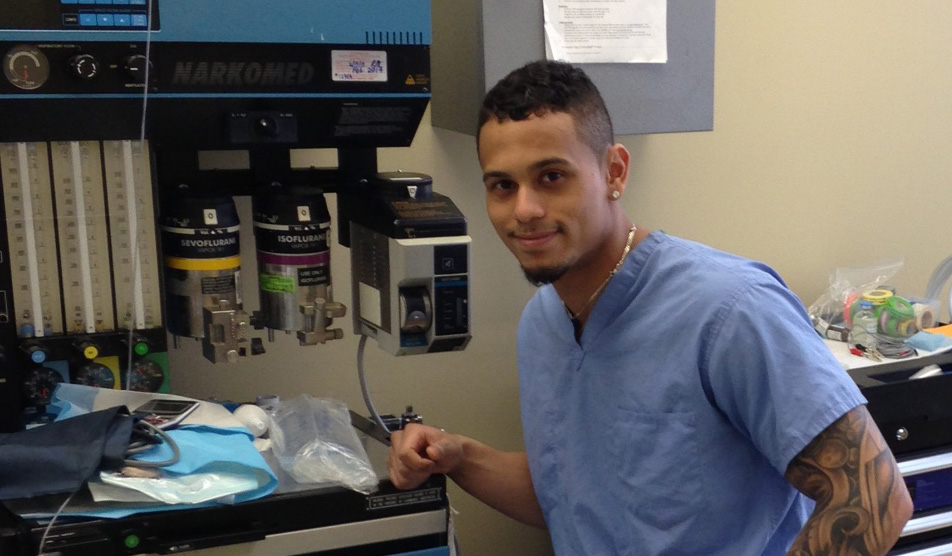 Aaron is originally from Prince George's County Maryland and a Bishop McNamara High School graduate who had his sights set on a career in medicine. This past year he became a Central Scholarship recipient when he received the Isaac and Catherine Hecht Scholarship fund award to support his doctorate studies in Nurse Anesthesiology at Johns Hopkins University. He told us, "The generous contribution from Central Scholarship helped me pursue my dreams of being an anesthesia provider by alleviating some of my financial burdens and allowing me more time to focus on studying."
We recently caught up with Aaron to see how his year was going.
What is your favorite part about being in school?
One of my favorite parts of school is the camaraderie between the classmates who share the same academic journey. My program is three years long. Simply put, it is a marathon, not a sprint. During school, you meet new people from various backgrounds who happen to share the same career path. There is a sense of solidarity when 20 students partake in the same rigorous educational quest. We support each other through the challenge and, in many cases, form long term friendships. Despite continuous reading, all-night study sessions, and sleep deprivation that can accompany anesthesia programs, I find it essential to cherish the journey because it is an opportunity many do not have.
What is the biggest challenge you have experienced at school, and how did you overcome it?
My biggest challenge as a student throughout the years has been organization and planning. During my undergraduate studies, I noticed this was an area I could improve. Before starting graduate school, I made this a top priority. I was able to overcome this with the aid of technology advancement and application development over the years. Today, applications allow me to create a schedule, set alerts, and prioritize using my phone, tablet, or laptop. It also makes for a paperless school experience, which fits my learning preference. I was never a fan of printing lectures and carrying binders. I was surprised but pleased to see how much the student experience had changed since I graduated from nursing school seven years ago.
How has life changed for you during the COVID-19 outbreak personally and academically?
Personally, COVID-19 has hindered me from attending events and socializing outside the home but has led to spending more time with close family members, which I have enjoyed.
Academically, the anesthesia program's first year is designed to be 95% online, with 5% on-campus immersions for one of our courses. This immersion was changed to online due to the pandemic, which had its advantages and disadvantages. Being able to attend class in your own home is convenient, but virtual simulations have their limitations. Fortunately, this course was not an anesthesia course. In May 2021, we are expected to be on campus for course work and clinical residency until completing the program in 2023.
Do you have any advice for students who are about to start their higher education career?
Financially, I would advise students to search diligently for scholarship and grant opportunities. There are many organizations such as central scholarship and others committed to helping students achieve fulfilling careers by providing support.
Academically, I would certainly recommend investing in a tablet to go paperless. The convenience of having all your course-related content, lectures, planner, schedule in one place is a huge benefit.
Mentally, I would advise students to take personal days to avoid burn out. Personally, after every exam, I take the day off to recharge, which gives my mind a break. As I said, school is a marathon, not a sprint and mental well-being gets you to the finish line.
What do you have planned for the future?
After graduation, I look forward to positively impacting others' lives by practicing in a hospital system that sees a diverse surgical population. I also intend to engage in research to improve health-related outcomes and advocate for the profession to increase access to high-quality and cost-efficient anesthesia providers.
Given the overwhelming underrepresentation of minorities in nurse anesthesia, I am compelled to contribute to the profession's further diversification. Although awareness has improved over the years, there are still obscurities amongst non-healthcare professionals. Personally, the majority of people in the community I am from are unfamiliar with nurse anesthesia. In fact, in the community where I am from, there is an obsolete outlook that nursing is feminine and inferior to medicine. I was often looked down upon for entering what my peers deemed an "unworthy profession" for men. I believe such misconceptions are the reasons why black males make up such a small percentage of the nursing demographic. However, I have never been one to follow the crowd but to lead it. Members of my community are missing opportunities due to this parochial view, and I intend to rectify this to improve diversity in the nursing profession.
We're thankful to have the opportunity to catch up with Aaron and see how Central Scholarship is able to help in his educational journey. Learn how you can make a difference and help other students remove financial barriers and build bright futures with higher education.