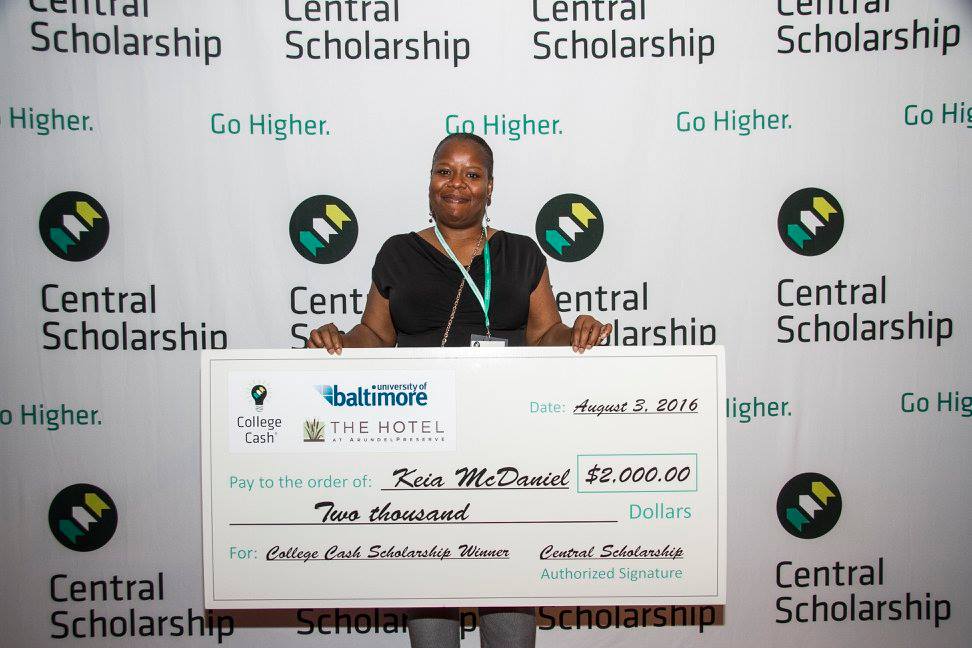 Congratulations to August's Grand Prize College Cash® winner, Keia McDaniel. Keia attended the "Finding Money for College" session in the winter at the University of Baltimore. As the first in her family to attend college, Keia is determined to move forward with her dream of a degree despite financial obstacles. She sought out "Finding Money for College" as a tool to help her reach her goal – and she was rewarded. Keia's winning essay is featured below:
Attending Central Scholarship's seminar was both eye opening and worthwhile. As a senior at the University of Baltimore, I did not think that this seminar would offer me any information that I did not already know about. To my surprise, my assumption was wrong. As the first in my family to attend college, I have had to learn a lot of lessons about funding my education the hard way. I did not have anyone to walk me through all the details of how to fund my education without incurring debt.
The hosts of the event, Angela and Jennifer, did an exceptional job explaining all of the different resources that were out there. Some of these resources were familiar to me, but there were many resources that they mentioned that I had no idea existed. There were several "ah ha" moments that made me reflect on my current situation and how I will apply this knowledge to fund the remainder of my education.
I gained some valuable knowledge about how student loans worked. For instance, I had never really understood the difference between the subsidized and unsubsidized loan. Jennifer explained the difference to us using an analogy. She explained that the same way substitute teachers fill in for a teacher, the federal government fills in for us to pay the interest on our subsidized loans while we are attending school. On the other hand, Jennifer explained that we would be responsible for the interest with the unsubsidized loan. This interest can be paid while still attending school or after your education is complete. Waiting until after your education is complete comes with consequences because the interest on unsubsidized loans will continue to accrue. This made me realize that I should have taken the time to fully understand all of the consequences of taking out student loans much sooner.

Over the past year, I had to increasingly rely on student loans to attend school because I did not have any other funds available to me. This made sense to me when Angela showed us some alarming statistics. What stuck out to me was that over sixty percent of students who attend school for four years or more struggle to find funding. It was like she was talking right to me. She explained that schools will reserve certain funds to attract incoming students. It changed the way that I approach funding my education. For example, I was still faced with a small bill to pay my school at the end of my fall 2015 semester. After speaking with several people in my financial aid office informing them that I was aware of some of these practices to withhold funds to attract new students, I was able to get a grant to cover the remainder of my fall bill. I am grateful for having the opportunity to have attended this event.
Although my undergraduate education is almost complete; I can still apply a lot of the information that I received at this seminar to my future educational endeavors. Attending this seminar really showed me that I did not need to rely so heavily of student loans to fund my education. I could have left the seminar feeling sorry about incurring so much student debt and not putting in the effort needed to look for suitable funding or more affordable educational options. However, I left this seminar feeling empowered because I now have some knowledge that will guide me in my future educational decisions.