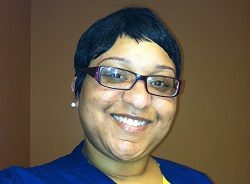 Last year, Ernestine Saddler decided to pursue her dream of becoming a nurse, which she had to abandon to care for an ailing family member. Ernestine altered her career plans and aimed for a CNA/GNA (Certified/Geriatric Nursing Assistant) certificate. She writes, "In February 2013 I received the opportunity to obtain my Certification as a Nursing Assistant with the help of Central Scholarship, which became the catalyst to jump start my career goals in the healthcare field. Although I am not a Licensed Registered Nurse, I am determined to become one and with baby steps I will achieve this goal."
Central Scholarship awarded Ernestine with a Wells Fargo Vocational Scholarship and a Ben and Esther Rosenbloom Vocational Scholarship. Our funding allowed Ernestine to earn her CNA/GNA certificate. She reapplied with us this year to move up and earn her PCT (Patient Care Technician) certificate at Stein Academy. With this under her belt, Ernestine will be able to earn more doing what she loves while she begins taking prerequisite courses toward her nursing degree.
For those interested in career and technology training, Central Scholarship offers vocational scholarships. The vocational scholarship application remains open year-round and scholarships are awarded on a rolling basis. The vocational scholarship application will close briefly for the holidays on December 15th, 2013 and re-open on January 1st, 2014. The application will remain open through December of 2014.