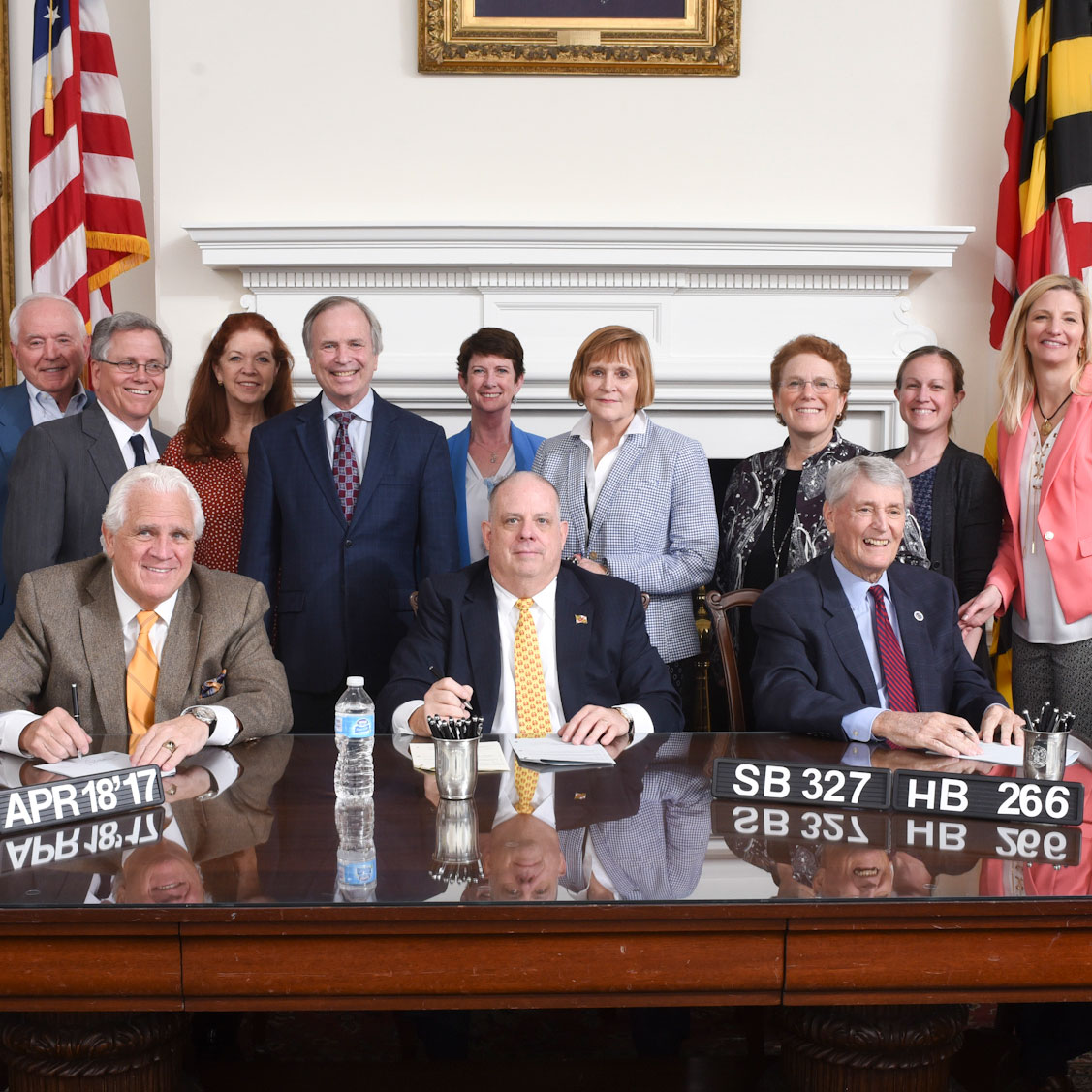 Photo credit: Executive Office of the Governor
A Road Map to Successful Advocacy
Scholarship Award Displacement: How Central Scholarship Led the Passage of the First State Law to Restrict Scholarship Award Displacement
2013

Research Identifies the Issue

The National Association of Scholarship Providers (NSPA) issued a paper, Impact of Award Displacement on Students and their Families: Recommendations for Colleges, Universities, Policymakers, and Scholarship Providers.
Dr. Jon Oberg, retired US Department of Education Researcher and federal whistleblower on scholarship award displacement, spoke with Central Scholarship's Board of Directors.

2015

Develop Public Awareness of the Issue

Central Scholarship published an op-ed about scholarship award displacement in The Baltimore Sun.

2016

First Year: Legislation is Crafted

Central Scholarship inspired Delegate Dana Stein to introduce Maryland House Bill 231: Public Institutions of Higher Education – Financial Aid – Reduction Prohibited.
Delegate Eric Ebersole introduced Maryland House Bill 230: Institutions of Higher Education – Reduction in Financial Aid – Notification in response to a legislative scholarship being displaced by a private Maryland university.
Public and private higher education institutions in Maryland opposed both bills on the grounds they would be forced to violate federal financial aid law.
Central Scholarship met with elected officials, built a coalition, leveraged their local and national network and traveled to the Maryland State House to testify in the House and Senate committee hearings.
The Senate bill passed unanimously but the House bill never received a vote.

2017

Second Year: Legislation is Passed!

Delegate Dana Stein introduced a bill that would protect private scholarships from being displaced for 138,000 students attending 4-year public higher education institutions in Maryland.
This bill had strong support by local organizations including the Baltimore Community Foundation, Civil Justice Inc., CollegeBound Foundation, and the Maryland Consumer Rights Coalition, and by national experts including: Kevin Fudge of American Student Assistance; Mark Kantrowitz, then with Cappex; David Levy, then with Edvisors Network, Inc; and Dr. Jon Oberg, retired from US Department of Education.
In April 2017, the bill passed in both the Senate and House chambers and it was signed into law by the Governor that same month
Maryland was the first state in the nation to restrict scholarship award displacement!

2018

More Advocacy to Protect Private Scholarships

Central Scholarship reached out to the Maryland Independent College and University Association (MICUA) to discuss restricting scholarship award displacement at private higher education institutions.
Instead of legislation, MICUA proposed a written agreement under which MICUA member institutions would not displace scholarships awarded by Central Scholarship.
On November 1, 2018, Central Scholarship and one additional private scholarship provider in Maryland, the CollegeBound Foundation, signed one-year agreements with each of MICUA's 13 member private higher education institutions:

Capitol Technology University
Goucher College
Hood College
Johns Hopkins University
Loyola University Maryland
Maryland Institute College of Art
McDaniel College
Mount St. Mary's University
Notre Dame of Maryland University
St. John's College
Stevenson University
Washington Adventist University
Washington College
---
Lessons Learned
Available Data
Colleges are only required to file the final student award letter with the US Department of Education. Students must look for a change in their award letter, then challenge their financial aid office or ask their private scholarship provider for help.
Know the Difference Between Advocacy and Lobbying
There is a difference between advocacy and lobbying. Advocacy is promoting a cause and lobbying is influencing a specific bill. IRS guidelines allow 501c3 nonprofits to do limited lobbying, influence legislation, and conduct educational meetings, but do not allow nonprofits to support political candidates. We elected IRS 501h status on our 990 as recommended by CPAs.
Assemble Resources and Build your Team
We could not have succeeded without:
The NSPA 2013 paper on scholarship award displacement
The funder who believed in us and invested in our work
The right lobbyist working hard for us in Annapolis, who has the right connections and understands the process
A strong bill sponsor and support of key elected leaders
Our strong network of relationships both at home in Maryland and at the national level
The support of our board of directors
Internal staff capacity
---
Reference / Resource List